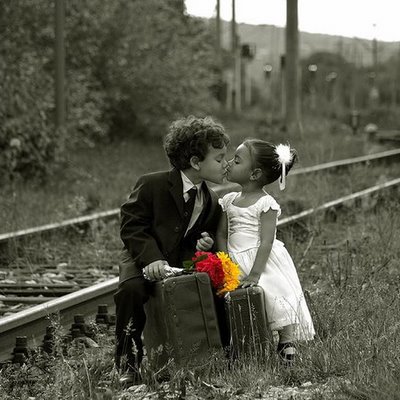 To begin with,  Webster's Dictionary  tells us that love is "a deep, tender feeling of affection and solicitude toward a person,"  that it is  "a feeling of intense desire and attraction toward a person with whom one is disposed to make a pair."
The modern perspective of love conjures up ,  first of all,  romantic love:  that emotional involvement  of thoughts and feelings between two individuals. In any discussion of this topic,   we must first establish  that love  involves a  a two-way relationship between two people:  a  lov—er – –  that one who chooses of her own volition to offer,  to give this powerful emotion – – and a lov – -ee  – –  the  object of that love,   that one who chooses [or not ]  to accept/to receive  same emotion.   To initiate this action, the  lover chances vulnerability.   She "puts herself out there."
To offer the love or not, this is the risk the lov–er takes.  To receive the offering of love, or not,  this is the risk the lov–ee takes.  Such risky business is not for the faint of heart!  Still,  February is a time when  one's "fancy lightly turns to thoughts of love" as Tennyson tells us in "Locksley Hall."
We must recognize two perspectives on this kind of risky relationship,  one is romantic, the other spiritual.   The spiritual  perspective shall be first.   Expounding on God as the perfect Lov – -er  is where we must begin, for he initiated the  personally designed love relationship that each of us as believers  experiences with him.   Now we have this love union because we chose to receive and return God's love.  We can know that our declaring we love God makes happy both the lov — er and  the lov – -ee.
A good place to examine such a kind of spiritual relationship  is Psalm 63,  where David expresses his desire and acceptance of, confidence in and gratitude for God's presence, his provision and his protection.  Here is a man truly in a love relationship  with God.  David not only receives God's love, but he revels confidently in it.  He makes his boast in it;  he experiences and expects  it continually.  Even though David is presently in a  geographically hard place,   the Wilderness of Judah,  he reminds himself of the faithfulness of his Lover to attend to his well-being. Consider the tone of this passage:
1 O God, You are my God, earnestly will I seek You; my inner self thirsts for You, my flesh longs and is faint for You, in a dry and weary land where no water is.
2 So I have looked upon You in the sanctuary to see Your power and Your glory.
3 Because Your loving-kindness is better than life, my lips shall praise You.
4 So will I bless You while I live; I will lift up my hands in Your name.
5 My whole being shall be satisfied as with marrow and fatness; and my mouth shall praise You with joyful lips
6 When I remember You upon my bed and meditate on You in the night watches.
7 For You have been my help, and in the shadow of Your wings will I rejoice.
8 My whole being follows hard after You and clings closely to You; Your right hand upholds me.
We can also find information in the Bible to help us recognize romantic love as well.
Think of   the "Love Chapter,"   1 Corinthians 13,  where we find a descriptive definition of love.  Consider this translation from the Amplified Bible:
4 Love endures long and is patient and kind; love never is envious nor boils over with jealousy, is not boastful or vainglorious, does not display itself haughtily.
5 It is not conceited (arrogant and inflated with pride); it is not rude (unmannerly) and does not act unbecomingly. Love (God's love in us) does not insist on its own rights or its own way,  for it is not self-seeking; it is not touchy or fretful or resentful; it takes no account of the evil done to it [it pays no attention to a suffered wrong].
6 It does not rejoice at injustice and unrighteousness, but rejoices when right and truth prevail.
7 Love bears up under anything and everything that comes, is ever ready to believe the best of every person, its hopes are fadeless under all circumstances, and it endures everything [without weakening].
8 Love never fails [never fades out or becomes obsolete or comes to an end]
Also consider a  succinct description of  the  same passage and attribute from MESSAGE Bible:
Love never gives up.
Love cares more for others than for self.
Love doesn't want what it doesn't have.
Love doesn't strut,
Doesn't have a swelled head,
Doesn't force itself on others,
Isn't always "me first,"
Doesn't fly off the handle,
Doesn't keep score of the sins of others,
Doesn't revel when others grovel,
Takes pleasure in the flowering of truth,
Puts up with anything,
Trusts God always,
Always looks for the best,
Never looks back,
But keeps going to the end.
8-Love never dies.
FRIEND,  WHAT ABOUT YOU?
Are  you offering/giving these attributes, so far as you are able?
Is the person choosing to receive[or not receive] so far as that person is able?
Is someone offering them to you, as far as s/he is able?
Are you choosing to receive [or not receive]  as far as you are able?
Do you know what you're looking at?
Both  spiritually and romantically?
Do you  recognize who loves you?
Both  spiritually and romantically?
Whose love are you receiving?
Are you recognizing love in your own life?
Both  spiritually and romantically?
May   L –O-V-E   be more obvious this week on your journey!