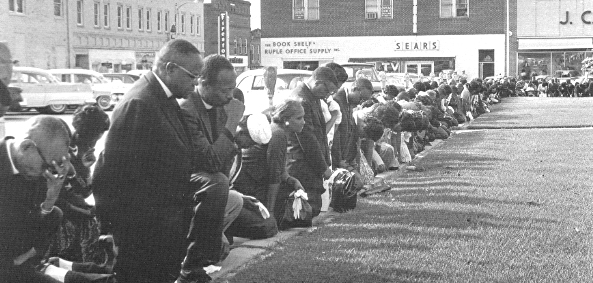 BLACK HISTORY MONTH is still eminently relevant to the collective psyche of the citizens of this country, the United States of America.  During this season of remembrance, we acknowledge the excruciation of  the  struggles  and imbibe the elixir of the successes of our African American ancestors.   One salient and continual purpose of Black History month is to teach/ remind ourselves of the "coping strength" of our elders:  How they "got over"  their physical and mental impediments  – – slavery, discrimination, hardships, beatings, and other well-documented atrocities.  I submit that prayer was their first line of defense – – the through line to victory from the dark,  brutal  days of Sojourner Truth to the hard-won enlightenment of the Reverend Dr. Martin Luther King, Jr.
We can benefit greatly from focusing on pray-ING, the "coping strength"  that our elders relied upon to sustain them in their noble efforts.  I submit, further, that often  SILENCE is our best usher into prayer.  Maintaining silence in the face of adversity can be  the ultimate demonstration/ utilization of meekness  – – strength under pressure.  In fact, earnest prayer often comes from  pressure, patience and perseverance.  Force yourself to keep silence despite a rash desire to rant; instead let patience have her perfect work in you,  for patience is the very  foundation for your cultivation of the fruit of the Spirit.  This is faith under pressure.  Keep silence until you hear the instructions of the Lord.  The psalmist speaks about this:
I said to myself, I'm going to quit complaining! I'll keep quiet, especially when the ungodly are around me.   But as I stood there silently the turmoil within me grew to the bursting point. The more I mused, the hotter the fires inside.  Then at last I spoke with God.   Psalm 39:1-3 
Follow the example of the psalmist and other scriptural recommendations:
To every thing there is a season, and a time to every purpose under the heaven
. . . A time to keep silence,  and  a time to speak           Ecclesiastes 3:1, 7b  
But the Lord is in His holy temple:
Let all the earth keep silence before him.    Habakkuk 2:20
Out of fullness of the heart, the mouth speaks — Luke 6:45
At this point, the psalmist speaks from the deeply private issue of his heart : his journey through this world  –  his time of existence on earth – –
 Lord, help me to realize how brief my time on earth will be. Help me to know that I am here for but a moment more.  My life is no longer than my hand! My whole lifetime is but a moment to you. Proud man!  Frail as breath!  A shadow!  And all his busy rushing ends in nothing. He heaps up riches for someone else to spend.   And so, Lord, my only hope is in you.   Save me from being overpowered by my sins, for even fools will mock me then.   Lord, I am speechless before you.  I will not open my mouth to speak one word of complaint, for my punishment is from you.  Psalm 39 vv. 4-13 , NLT
The psalmist ends his prayer feeling comfortably confident that his only hope is in God whose control he can securely trust.
Follow, again, the psalmist's example:   Feel the prompting that will come  from restraining your  impulsivity while allowing the Holy Spirit to "word your mouth." Acts 2:4 tells us that when we are filled with the Holy Spirit, then He will give us utterance.  In other words, your perseverance in silence will lead you to pray insightfully   to our Heavenly Father  about whatever matter is tugging at your heart.  I urge you to follow the spirit of your encounter with God and pray aloud.
This sincere meditation and prayer came forth out of the fullness of the psalmist's heart.   What  will  come  from  yours ?
MAY YOU GO FORTH ON YOUR JOURNEY TODAY
IN THE C O P I N G    S T R E N G T H 
OF THIS ENCOUNTER !