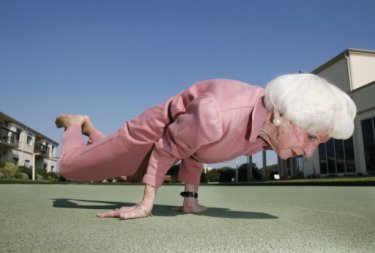 AGING IS PLANNED OBSOLESCENCE – See 2 Corinthians 4:16, 18
. . . though my outward wo/man perishes, YET
my inward wo/man is renewed day by day . .
. . . I look not at things which are seen [evidences of aging]
but at things which are not seen [evidences of spiritual maturity]
for the things which are seen are temporal
but the things which are not seen [love, joy, peace, longsuffering, gentleness, goodness, faith, meekness, self-control]                                  these are eternal.
REDUX: To every thing there is a season, and a time to every purpose under heaven. Ecclesiastes 3:1
REMIX: he has made every thing beautiful in its time. Ecclesiastes 3:11
I'm struttin' into seventy-five! June can't come soon enough for me. I am fearfully and wonderFULLy made. [Psalm 139:14] Therefore, I am ready, willing, and anxious in this season of my life. This is my beautiful time to plant, heal, build up, laugh, dance, embrace, speak, and love. I speed toward a place whose horizon grows brighter as I move. Yes, this is the day/season/age the Lord has made for me, and I will be glad in it! [Psalm 118:24] I anticipate Joie de vivre in spades as the Holy Spirit moves me!
I find a kindred spirit with Lord Tennyson's Ulysses: "All experience is an arch wherethrough gleams that untraveled world whose margin fades for ever and ever as I move." And with Caleb, who at eighty years old told Joshua, "Give me this mountain!" as they prepared to enter the Promised Land. [Joshua 14:12] I understand the pulsation of Ulysses' "heroic heart" when he asserts that he has been "made weak by time and fate, but strong in will to strive, to seek, to find, and not to yield."
You see, I have received from my God new and improved replacement parts. Just as he promises in Isaiah 61:3, he has given me "beauty for ashes." Here's the Trade Inventory:
TRADE-IN                                                                   REPLACEMENT
A – aging                                                                    A – Annual birthday renewals
S – senior sainthood                                               S – sassy elegance
H – halting steps                                                     H – H E A L T H
E – eyesight problems                                            E – excellent insight
S – senility                                                                S – Sabbath Rest – – Daily!
Yes, my friend, my faith has found a RESTing place – and I am Receiving Eternal Sanctification Today—Resting in Him! I sincerely trust God's promise in Isaiah 46:3-4 for my twilight years.
Hearken to me O Daughter,
Who is bourne by me from the belly
Who is carried by me from your mother's womb;
. . . and even to your old age I am He.
And even to white hairs will I carry you;
I have made, and I will bear;
Even I will carry and will deliver you.
So you see, my friend, I'm struttin' toward seventy-five. Thank you, Lord! Hallelujah!
God rest you on your journey!