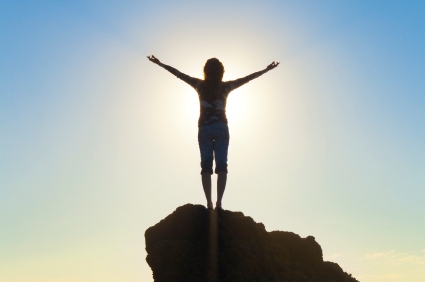 Today, if you will hear his voice, harden not your hearts Hebrews 3:7-8
She who hesitates is lost.
She who hesitates is bewildered.
She who hesitates is unprepared for the challenges of life.
She who hesitates loses the patently great accomplishments, friendships, knowledge, that come from being pro-active.
A double minded man is unstable in all his ways. James 1:8
Musings in my Mind
Epiphany – loosely defined as a revelatory experience when deity appears to/interacts with a person. The Old Testament records such random divine interactions as theophanies, often noting the appearance of THE Angel of the Lord [Genesis 16:7-13]. The New Testament documents the abiding presence of God in the person of Jesus the Christ. [passim]
Dr. Charles Stanley – [In Touch Magazine, January, 2014, p. 61]
What he says about a time of human exchange with each other when we experience a "face-to-face encounter, " "a split-second epiphany" can also describe our personal interaction/encounter with Jesus. Dr. Stanley calls it "a moment of recognition, the revelation of a bond that always exists but we often fail to appreciate." I call it a moment/minute/hour/day of Sabbath Rest. This interaction occurs – – not because of who we are, but – – because of who HE is. These moments stem from "the deep mystery of existence," for "each of us carries a world within our one person." Consider William Blake's description of this powerful attribute in "Auguries of Innocence":
To see a world in a grain of sand
And heaven in a wild flower,
To hold infinity in the palm of your hand,
And eternity in an hour.
Yes, Dr. Stanley, I agree: each of us has "an inner life known fully only by God."
Music in My Ear
I woke up this morning with my mind
Stayed in Jesus
Halelu! Halelu! Halelu!
– – -And secondly – – –
There are some things I may not know, there are some places I can't go
But I am sure of this one thing
That God is real, for I can feel Him deep within.
Some folk may doubt, some folk may scorn. All can desert and leave me alone,
But as for me, I'll take God's part.
For God is real, and I can feel Him in my heart.
I cannot tell just how you felt when Jesus took your sins away.
But since that day, yes, since that hour
God has been real for I can feel His holy power.
Yes, God is real, real in my soul!
Yes, God is real, for He has washed and made me whole.
His love for me is like pure gold.
Yes, God is real, for I can feel Him in my soul!
Matter in My Heart
Romans 10:1 [Paraphrase] – Believers, my heart's desire for you is that you might have Sabbath Rest. For I bear you record that you may have a zeal of God /enthusiasm for God, but not according to your own personal experience/interaction. Your knowledge may be second-hand, not yours, but someone else's whom you respect – – mother, dad, grandmother, or even a minister o another believer. I say, "Get your own!" experience with God. My heart's desire is that you may know God for yourself and not another. [1 John 5:20]
Messages in My Spirit
I have an overly burning desire to anticipate/mitigate against/answer with the Word excuses you may have for not studying the Word.
Excuse A – "I do not understand what I read in Scripture"
Answer – The Scripture is available in several versions. You are not bound to the King James Version [KJV, 1611] with the anachronistic "thee," "thou," "ye," and the "begats." You can even find translations beyond the New King James Version. [NKJV] One of the most recent modern versions of the Bible is The Message . Whichever you choose, first pray for understanding; then study the Scripture so that you may understand and handle it correctly. [2 Timothy 2:15]
Excuse B – "I'm too busy, not enough time in my day."
Answer – Consider this: Joshua asked God to stop the sun and moon over Aijalon Valley so that he and his army could win their battle against the Amorites – – and God did! God redeemed the time for Joshua. He will do the same thing for you. For example, you may zip through that assignment that you thought would take tedious hours. Your mind will be clear and your thinking will be innovative. Or, a person may unexpectedly postpone/cancel a scheduled appointment.
Excuse C – "I don't see the relevance/practicality."
Answer – The central truth gleaned from Biblical context is applicable to our current circumstances. For example, both Exodus 16:16-18 and 2 Corinthians 9:10 show us that there is no lack of God's provision when we follow his principles of sowing and reaping.
Excuse D – "I doubt that this will happen for me, in my case."
Answer – Pray the same prayer as did the father who sought healing for his son who suffered from demonic possession: "Lord, I do believe, help my unbelief." [Mark 9:23, NAS] Unbelief is doubt/weakness of faith. Then, the Holy Spirit will lead you to such an empowerment of your faith that you will be able to choose to believe and declare like Paul: I am absolutely convinced that nothing – – nothing living or dead, angelic or demonic, today or tomorrow, high or low, thinkable or unthinkable – – absolutely nothing can get between me and God's love because of the way in which Jesus, my Master, has embraced me. [see Romans 8:38-39, Message ]
Finally, my spirit urges that you pray to remove whatever excuses that rob/steal your time of Sabbath Rest. PRAY, ask God to help you . Should you feel you need someone to be accountable to – – ask God to send you a friend who will stick closer than a sister in this endeavor. PRAY, ask the Holy Spirit to activate himself in your life, leading you to truth and righteousness. PRAY, Ask the Lord Jesus to come in and sup with you. Follow his example, for he often slipped away to pray alone to his Father – – sometimes all night. [Matthew 14:23, Luke 6:12 and 9:28]
In fact, we find him praying on the eve of his crucifixion. [Matthew 26:36-45] His humanity screamed dreadingly against the physical/emotional/spiritual pain he must surely endure if he were to carry out God's plan of salvation. Although his humanity was weak, his divinity was strong. Finally, he achieved peace/rest in obedient submission to his Father.
Pray right now that we will steal away often to enter our own Sabbath Rest.
God rest you on your journey!