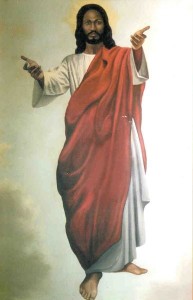 As  I prepare to usher us to the place of our first encounter with Jesus on the second day of this new year, 2014,  I hear the rain falling persistently on my roof.
It reminds me of the spiritual symbolism of water, a metaphor for the Holy Spirit, for  the presence of the third person of the Trinity. Randomly, the rain  makes me concentrate on the availability and involvement of the Holy Trinity in the mundane affairs of my life, of my Christian journey.  I think of God the Father, whose mercies are new every morning, for great is his faithfulness. I think of God the Father, our God of All Comfort.  I think  of the Holy Spirit whom Jesus sent to be our guide, whose purpose is to be our default resource to lead us into all truth and righteousness.  And I think of Jesus, himself.
Softly and tenderly, Jesus is calling.  Feel this sentiment of the hymnist Will L. Thompson:
"Softly and tenderly Jesus is calling, calling for you and for me . . .
Why should we linger and heed not His mercies,
Mercies for you and for me"
I think of Jesus, standing  at the door  of our hearts and knocking – – gently- – offering to come in and sup with us [Revelation 3:20].   I think of Jesus, who lamented:   O, Jerusalem/Klara how often would I have gathered you under my wings,  protected you from the vagaries of your life's journey, but you were otherwise occupied [see Luke 13:34].  How often would I have told you the many things about thriving in this life, on this journey, but you could not receive my encounter.
This steadily persistent , gentle rain reminds me that Jesus is always there/here, in my space, to help me, comfort me, and guide me.  I invite you to say with me:   Lord,  I need not feel that I must face theses coming days alone.  I resolve now to release myself from pre-occupation with questions, fears, apprehensions about  my future this year.  I release my self to trust in Jesus for my provision—in every aspect of my life, every activity, every arrangement, every circumstance.  I will anticipate his favor and expect the Holy Spirit to lead me from one good degree of grace to another.
It is as if the Father is whispering:  I will be found by you [Jeremiah 29:14]  Earlier, God tells the  prophet:  For I know the thoughts and plans that I have for you, . . . thoughts and plans for welfare and peace and not evil, to give you hope in your final outcome [Message, Jeremiah 29:11].
Allow me to Give my personal amplification:
I hear our Father saying,
I, God, KNOW [in my omniscience]
The plans [activities, goals, purpose, experiences, achievements, tests]
I [the plans I have prepared – – not those proffered by your enemies, i.e., –the world, the flesh , the devil]
HAVE [ My plans are already figured out,  signed sealed and waiting to be delivered.
I am not making up these plans as you travel on your life's journey; these plans are already "in the vault."  Therefore, you CAN be easy about the vicissitudes of your life.  You CAN count it all joy when you fall into divers temptations, or in the more modern words of the Message about faith under pressure:
Consider it a sheer gift, friends, when tests and challenges come at you from all sides.  You know under pressure, your faith-life is forced into the open and shows its true colors.  So don't try to get out of anything prematurely.  Let it do its work so you become mature and well-developed, not deficient in any way.  If you don't know what you're doing, pray to the Father.  He loves to help.  You'll get his help, and won't be condescended to when you ask for it.
Ask boldly, believingly, without a second thought.  . . .
So my very dear friends, don't get thrown off course.
Every desirable and beneficial gift comes out of heaven.
The gifts are rivers of light cascading down from the Father of Light.
There is nothing deceitful in God, nothing two-faced, nothing fickle.
He brought us to life using the true Word, showing us off as
the crown of all  his creatures  [James 1:2-5, 16-18] .
I KNOW THE PLANS I HAVE FOR YOU – -for your individual journey, for you specifically. God is  saying to us just as he enlightened the prophet  [Jeremiah 1:7]   about his calling:
Before I formed thee in  the womb, I knew thee,  and before thou calmest forth out of  the womb, I sanctified thee, and I ordained thee.
These plans are to prosper YOU  [they will foster your individual growth, YOUR individual well-being]
My plans are are not designed to harm you.  Remember your heavenly Father knows how to give GOOD gifts;  He will not "scam" you by giving you stone for bread [Luke 11:11-13].
The Father says, my plans are customly tailored  for your specific life TO PROSPER YOU.  I want to GIVE you blessings.  Be assured these blessings will overtake you.  They will be grace gifts, unearned but merited – – only because I CHOOSE to bless you with my favor.
I WILL GIVE YOU HOPE. –not mere wishful thinking, but right believing, a confident knowing that I do all things well.
I WILL GIVE YOU a successful end, a future  [you will see my workings on your behalf  in January,  continuing through the year, cascading into a crescendo in December!
Therefore, you can go ahead now and fulfill 1Corinthians  15:58:
Be steadfast, unmovable, always abounding in the work of the Lord, forasmuch as you know that your labor is not in vain in the Lord!
Confidently, run with patience the race  – – this segment of your life's journey – -that is set before you [Hebrews 12:1]
Heavenly Father, please help us to trust your faithfulness throughout every month, every week, every day, every minute, every second of this new year. Holy Spirit, you have our permission to lead us into the paths of righteousness for His name's sake.  Lord Jesus,  as much as we are able, we receive your peace and emulate your love.
Blessed be the Holy Trinity.      Amen
My friends, watch for God's blessings to be seen as you journey in 2014!